FITSI Authorized Training: FITSP-Auditor Review Course and Certification Exam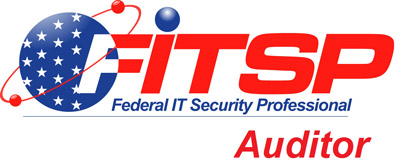 Overview
This 3-day training class will help candidates prepare for the FITSP-Auditor certification. The FITSP-Auditor certification is designed to demonstrate that federal workforce personnel, both federal employees and contractors, possess the knowledge of federal IT security requirements necessary to successfully audit and review the management, operational, and technical IT security controls for systems owned by or operated on behalf of, the federal government. This role deals with high-level, cost-effective, risk-based IT security audit functions that assure program value is achieved within the ever-changing risk and evolving threat environments.
Agenda
The course content covers the six domains that make up the FITSP exam. These domains are:
• NIST Special Publications
• NIST FIPS
• NIST Control Families
• NIST Interagency Reports
• Government Laws and Regulations
• NIST Risk Management Framework
Audience
The auditor role is designed for candidates who review and audit automated information systems within the United States Federal Government. These are usually IT auditors within the Inspector General's community and public accounting companies.
Prerequisites and Advanced Preparation
Candidates should meet the prerequisites required for the certification.
Learning Level
Intermediate
Class size: 25
When
The class is Tuesday-Thursday, September 26th-28th, 2023, from 8:30 am EST to 5:00 pm EST. The exam can be scheduled remotely after the class is over.
Where
Virtually, online via Microsoft Teams.
CPEs
21